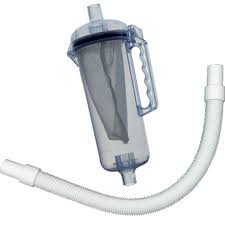 Inline Leaf Traps
For use with automatic suction cleaners.
Full Description
Leaf Traps
Specially designed to be used with automatic suction-side pool cleaners or vacuum heads. Rainbow Leaf Traps capture large amounts of leaves, twigs, rocks, hair pins, and other debris before it reaches the skimmer or pump basket. Most models include 3 ft. of flexible vacuum hose
The Economy Inline leaf trap canister is ideal for trapping leaves, large debris and even the occasional frog! Traps the debris in a mesh bag within the canister to prevent it from reaching and clogging pipework and filtration equipment. A vital piece of swimming pool maintenance equipment for pools that are surrounded by trees. Attaches to a standard 1.5" vacuum hose.