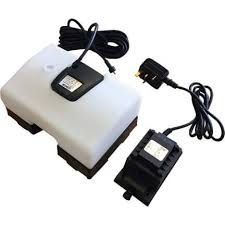 Safety Cover Pump
Uniquely designed automatic pool cover pump is ideal for removing water from all types of pool covers.
Full Description
The ultimate version of pool cover pump equipped with an electronic board and with a low voltage motor for maximum safety and satisfaction. It is equipped of a 60W transformer suitable for outdoor use and made according the low voltage Safety norms. The water accumulated on pool cover is removed automatically by means of an electronic sensor working by two stainless steel blades which "feel" any residual water and start the pump immediately.
Once working, the pump 135Pel will drain the water out of the cover until this is completely empty. After its working time the pump stops automatically. The electronic board is fully protected by encapsulation inside the motor housing. The motors need no particular care and maintenance except to keep clean from moisture the sensor blades. The impeller system grants long operational capacity even with lower water level on covers and prevents any damage of wear and tear. 12V 60VA supplied transformer approved according to TÜV-GS.