In Ground Spa, Spas, In Ground Hot Tubs, UK
Commercial Spas / Hot Tubs
WE ARE CURRENTLY RECONSTRUCTING THE WHOLE OF OUR IN GROUND AND COMMERCIAL SPAS PAGES. WE HOPE TO HAVE ALL THE LATEST INFORMATION UP AND RUNNING IN THE NEAR FUTURE.
Each Spaform Commercial Spa is crafted from the finest seamless sanitary grade acrylic, which is thermoformed and reinforced with three laminated layers of fibreglass making it extra strong and durable. The Spa units are then foamed to provide heat and sound insulation.
The Spaform Commercial Spa range is built by a professional team of craftsmen at the Teuco factory in Italy. These spas are ideal for use in many leisure related businesses, including hotels, fitness centres, country clubs and beauty salons where relaxation is part of the service.
The Commercial Spa incorporates:
Integral overflow channel
Drains fitted to your specification
150mm/240mm custom-built overflow grating
Integral pre-formed air track
Built by the same professional team of craftsmen, our Domestic Spas Pas Series are ideal for use inside or out and are available in a wide range of styles, sizes and colours.
The Domestic range in ground spas incorporates:
Integral pre-formed air track
Pre-formed air channel outlets
Sound and heat insulation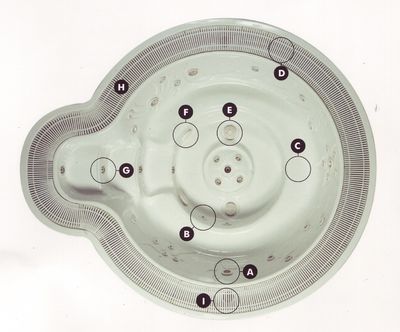 * Features D,H & I not available in Domestic Range