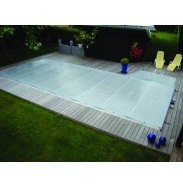 Walu Starlight Manual safety Cover
Walu Starlight Manual Safety Cover: Refined Performance For Rectangular Pools
Full Description
Description:
Walu Starlight is an enhanced and refined version of the popular Evolution model. The support poles for the Starlight are inversed so the half-round suspends beneath the cover giving a more aesthetically pleasing look to the visible cover surface. The end of the support poles are formed with flattened profiles which allows for a closer and flatter fit to the coping stones.
The main benefit of these features however is that the inversed poles mean that the cover is easier to handle, with both the winding and unwinding being smoother operations.
Walu Starlight is designed for use on rectangular pools only (with or without steps and ladders) so the inversed support bars can sit neatly between the coping stones and as such coping to coping measurements must be supplied when ordering.
Walu Starlight safety cover is the best manual safety cover available on the market, refined and extra strong this cover has all the benefits of the Walu system and is engineered to the highest standard.
Telephone 01323766600/08451303067 for a quotation
Features
Designed to prevent access to the pool for children under five years of age.
The Starlight Manual model is suitable for rectangular pools only up to 11m x 5.5m.
Low profile support poles sit between coping stones (coping to coping measurements are essential.
No separate solar cover, reel & winter debris required
Walu Starlight system delivers all the safety benefits
Complete with crank handle (2 if the cover size is over 50m2)
Individual panels can be replaced if damaged
Adjustable and lockable anchor strap to ensure effective fixing points
Reinforced flexible composite fabric with anti abrasion treatment
Stainless Steel fixings throughout
Covers are made approx. 16" larger than the pool size on length and width
From just £87/m2
Includes Mainland Delivery
Manufacture approx. 2-3 weeks
Shaping for step sections and ladders available


Range of solid and translucent colours

Year round cover
This cover conforms to the French European standard for swimming covers namely NF P 90-308 so If you are looking for extra refinement and child safety this is the cover for you, It goes without saying that children should always be supervised in the garden near swimming pools but this cover gives that added protection and the knowledge that if the child did fall onto the pool the cover would allow safe retrieval.
 Suitable for pools up to a maximum size of 11m x 5.5m (36' x 18') and is available in five standard opaque colours and two translucent.